Let's explore the world of Italian genealogy together, one person at a time.
...over the years we've had fieldtrips to museums, libraries, and even Roslyn's ethnic cemetery! I'm very proud that we have supported each other in our quest to find our Italian ancestors, sharing tips, resources, and celebrating successes.
Special 2-Part Italian Genealogy Lectures
Part 1: Beginning Italian Research
This lecture looks at how to get started in researching your Italian ancestors by examining records generated in the U.S. and Italy and what is most important in effectively researching in Italian records.
Part 2: Italian Records–Reading and Translating

This lecture offers many examples of the more prominent records for genealogy in Italy and how best to read them and translate them.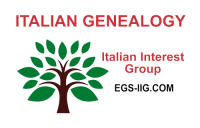 About our speaker:
Rhonda R. McClure, Senior Genealogist, is a nationally recognized professional genealogist and lecturer. Before joining American Ancestors/NEHGS in 2006, she ran her own genealogical business for 18 years. She was a contributing editor for Heritage Quest Magazine, Biography magazine and was a contributor to The History Channel Magazine and American History Magazine. In addition to numerous articles, she is the author of twelve books including the award-winning The
Complete Idiot's Guide to Online Genealogy, Finding your Famous and Infamous Ancestors, and Digitizing Your Family History. She is the editor of the recently released 6th edition of the Genealogist's Handbook for New England Research. Her areas of expertise include immigration and naturalization, late 19th and early 20th century urban research, State Department Federal records, New England, Mid-West, Southern, German, Italian, Scottish, Irish, French Canadian, and New Brunswick research.
Sign up for meeting notifications​